Podcast: Play in new window | Download
Subscribe: RSS
Hello Seahawks fans, welcome back for our latest edition of the Hawks Playbook Podcast. This weeks show is absolutely packed from start to finish! What a week to be a Seahawk fan!! We pulled off a mammoth lopsided trade with the Houston Texans for Jadaveon Clowney. The pro bowl defensive end was had for Barkevious Mingo (a player was going to cut), and his $4.25M cap hit along with LB/DE Jacob Martin, a nice complimentary rotation piece for the team and a 2020 third round pick. In addition, the Texans agreed to pay an $8M roster bonus out of Clowney's overall $16.75M franchise tag compensation. It was a great trade for Seattle by any measure.
The second half of the one and a half hour show is dedicated to the 2019 regular season prediction segment of the show. Bill and Keith go through each and every game with a short rundown and a win/loss prediction. here are the predictions for you to look at: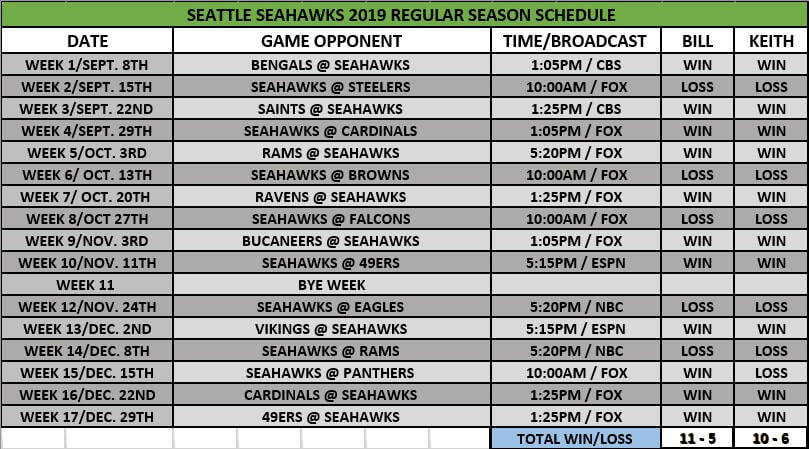 As you can see, both Keith and I had virtually the identical record…..except one single game. We had not gone over our own independent predictions prior to the show, so it was quite comical as it was happening!
Thanks for listening again and we hope to have you back again next week as we review the first game of the season vs the Bengals and we preview the away game vs the Steelers.
Go Hawks!!