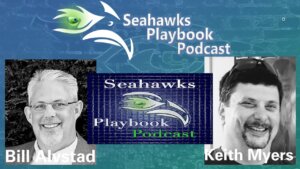 The Seahawks Playbook Website is your source for up-to-date Seahawks team news, articles, Free Agency Analysis, NFL Draft coverage, as well as audio and video podcasts featuring your Seattle Seahawks. The extensive website coverage is brought to you by the same team that brings you the Seahawks Playbook Podcast each week.
Our goal is to fill a content void in the Seattle Seahawks reader and listener community, by becoming your best source for Seahawks related news, accurate information, and an audio / video podcast that is dedicated to the Seahawks Playbook Community.
We will provide:
Original articles • Editorial and Opinion pieces • Team and Player Roster Analysis • NFL Draft Player Profiles • Team specific Mock Drafts • Weekly Twitter Highlights
~And Featuring ~
The Seahawks Playbook Podcast. The show features your host Bill Alvstad and co-host, Keith Myers! This popular weekly show has entered its 5th season and has published over 220 consecutive weekly episodes and topics include: Team and player news. Extensive NFL Draft prospect breakdowns. Training camp reports. In-season game previews and recaps. We are here every week. No time off. You can depend on us to delivery all original content year-round!
Did we mention that we feature frequent special guests? special guests include: Rob Staton from BBC Radio and the Seahawks Draft Blog.Dayna O'Gorman from Our Turf Football. Dan Viens from the Emerald City Sportscast. Brandan Schulze from the Field Gulls and Seahawkers Podcast. Chris Cluff from Chawktalk.com.
And many more upcoming on future shows!