Podcast: Play in new window | Download
Subscribe: RSS
Hawks Playbook Podcast Episode 61 – 2018 Seattle Seahawks Draft Picks / Undrafted Free Agent Signings 
Open: Welcome back to another episode of the Hawks Playbook Podcast. This week its all about the new players acquired via the 2018 NFL Draft and Undrafted Free Agent Signings. This years' picks are headlined by first round pick Rashaad Penny, and 5th round pick extraordinaire, Shaquem Griffin! This could be virtually the only time a 5th round pick could well overshadow a 1st round pick, and with plenty of good reason.  The Shaquem Griffin story is not only the headline story of the NFL Draft, but has been the headline sports story globally. Before the draft, this was a hope….almost unspoken as to not get our hopes to high that it would actually go down like this, but sure enough, Seattle made its first of four picks in the 5th round on Griffin, to reunite the twin brothers on Seattle's defense and renew a level of energy that this team has lacked these last couple of years.
Here's Seattle's picks, and Bill and Keith spend time discussing each one in the podcast, including a lengthy debate about the draft value of Will Dissly, TE from the University of Washington. We do not disagree very often on the show, so when we do, we almost surprise ourselves! You'll want to check it out.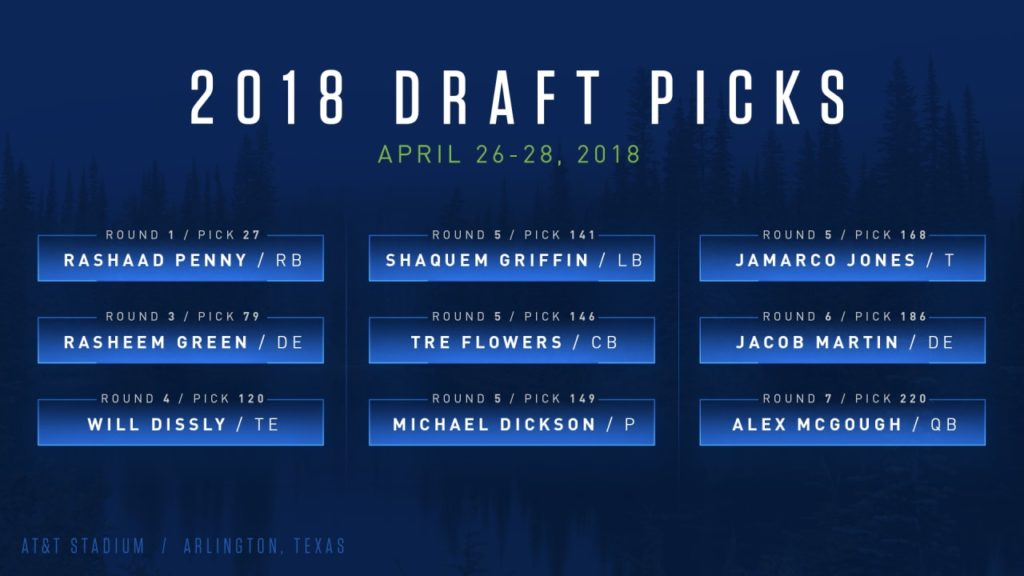 After Bill and Keith discuss our drafted players hall, we quickly go over some of the standout names of undrafted free agents the team signed and will be part of the 90-man roster. Of course, this list of players remains somewhat fluid over the next month or two before training camp in July. These names are currently not verified by the Seahawks.
Taj Williams, WR — TCU (reported by NFL Network's Herbia Teope)
Marcell Frazier, DE — Mizzou (reported by KC Star's Alex Schiffer)
Poona Ford, DT — Texas (reported by Bleacher Report's Matt Miller)
Jason Hall, S — Texas (reported by Bleacher Report's Matt Miller)
Eddy Wilson DT — Purdue (reported by GoldandBlack.com)
Tanner Carew LS — Oregon (reported by Houston Chronicles' Aaron Wilson)
Marcus Martin DE — Slippery Rock (reported by Slipper Rock)
Brad Lundblade C — Oklahoma State (Duke Manyweather)
Skyler Phillips OL — Idaho State (reported by Jason B. Hirschhorn)
Chris Hawkins S — USC (reported by the OC Register's Joey Kaufman)
John Franklin III WR — Florida Atlantic (reported by SB Nation's Alex Kirshner)
Ka'Raun White WR — West Virginia (reported by Daily Athenaeum's Patrick Kotnik)
Caleb Scott, WR — Vanderbilt (reported by Tennessean's Adam Sparks)
Jacob Pugh LB — Florida State (reported by Tallahassee Democrat's Curt Weiler)
Emmanuel Beal LB — Oklahoma (reported by the Houston Chronicle's Aaron Wilson)
Khalid Hill, FB—Michigan (reported by Khalid Hill and Land of 10.com)
Close: Thanks again for listening!! Please follow Keith on Twitter @MyersNFL and Bill is @NWSeahawk. Join us next week as we begin a two-part roster review. We'll start on the offensive side of the ball.  We will look at the existing roster, and take a look at the new draft picks and undrafted guys to see how they might fit.
Go Hawks!!