Podcast: Play in new window | Download
Subscribe: RSS
Hawks Playbook Podcast Episode 60  2nd Annual 7-Round Mock Draft Show
****Scroll Down for Draft Selections****
Open: Welcome back to the Hawks Playbook Podcast. Today's episode is our special 2nd annual 7-round mock draft with trades.  And Keith and I are recording the show in person for just the second time, and Keith brought home brewed beer!! We will sip on Keith own Irish Red Ale and a exceptionally excellent Cold Brewed Coffee Milk Stout as we go through the show. Keith and I researched and compiled our independently selected 7-round mocks and we were each allowed 3 trades. Two trades up front to drop back for extra picks, and one trade in the middle rounds to move back up.  It was a really fun recording session and we think, a great podcast. And with that, lets get started!
First up, the 2018 NFL Schedules were released over the weekend and the Seahawks schedule includes five nationally televised games including three out of the last five home games. It also includes a particularly brutal stretch of away games in the first 8 weeks of the season.  Seattle will open the season with two consecutive games on the road, and five of the first 7 games are on the road prior to November. Check out the schedule below:
2018 Seattle Seahawks Schedule
Preseason
Preseason Week 1: vs Indianapolis Colts, Q13 FOX
Preseason Week 2: at Los Angeles Chargers, Q13 FOX
Preseason Week 3: at Minnesota Vikings, Q13 FOX
Preseason Week 4: vs Oakland Raiders, Q13 FOX
Regular Season
Week 1: Sun. 9/9 at Denver Broncos, 1:25 p.m., FOX
Week 2: Mon. 9/17 at Chicago Bears, 5:15 p.m., ESPN
Week 3: Sun. 9/23 vs Dallas Cowboys, 1:25 p.m., FOX
Week 4: Sun. 9/30 at Arizona Cardinals, 1:05 p.m., FOX
Week 5: Sun. 10/7 vs Los Angeles Rams, 1:25 p.m., FOX
Week 6: Sun. 10/14 at Oakland Raiders (London), 10 a.m., FOX
Week 7: Sun. 10/21 BYE
Week 8: Sun. 10/28 at Detroit Lions, 10 a.m., FOX
Week 9: Sun. 11/4 vs Los Angeles Chargers, 1:05 p.m., CBS
Week 10: Sun. 11/11 at Los Angeles Rams, 1:25 p.m., CBS
Week 11: Thu. 11/15 vs Green Bay Packers, 5:20 p.m., FOX/NFLN
Week 12: Sun. 11/25 at Carolina Panthers, 10 a.m., FOX
Week 13: Sun. 12/2 vs San Francisco 49ers, 5:20 p.m., NBC
Week 14: Mon. 12/10 vs Minnesota Vikings, 5:15 p.m., ESPN
Week 15: Sun. 12/16 at San Francisco 49ers, 1:05 p.m., FOX
Week 16: Sun. 12/23 vs Kansas City Chiefs, 5:20 p.m., NBC
Week 17: Sun. 12/30 vs Arizona Cardinals, 1:25 p.m., FOX
Featured Segment: Hawks Playbook Podcast 2nd Annual 7-Round Mock Draft
Keith and I independently made our trades and draft picks. We both had similar approaches in the way we trade incrementally back to gain more picks and Keith traded back into the 4th round, while Bill had a swap of picks to get a better pick in the 4th round.  Both of us drafted a pass rusher and a corning with our first two picks and both of us had tight ends, running backs, big bodied wide outs and offensive lineman at different points. Interestingly, we both ended our drafts at pick 7/30 with the same player: Phillip Lindsay, RB out of Colorado. Lindsay breaks the mold on what the Seahawks have liked in the resent past, but he would have a real chance to make the roster if selected to catch balls out of the backfield and return kicks on special teams.  Let us know what you think! I think Keith automatically wins because he brought the killer home brew beer! And he even left me a growler of the Irish Red! Thanks so much my friend.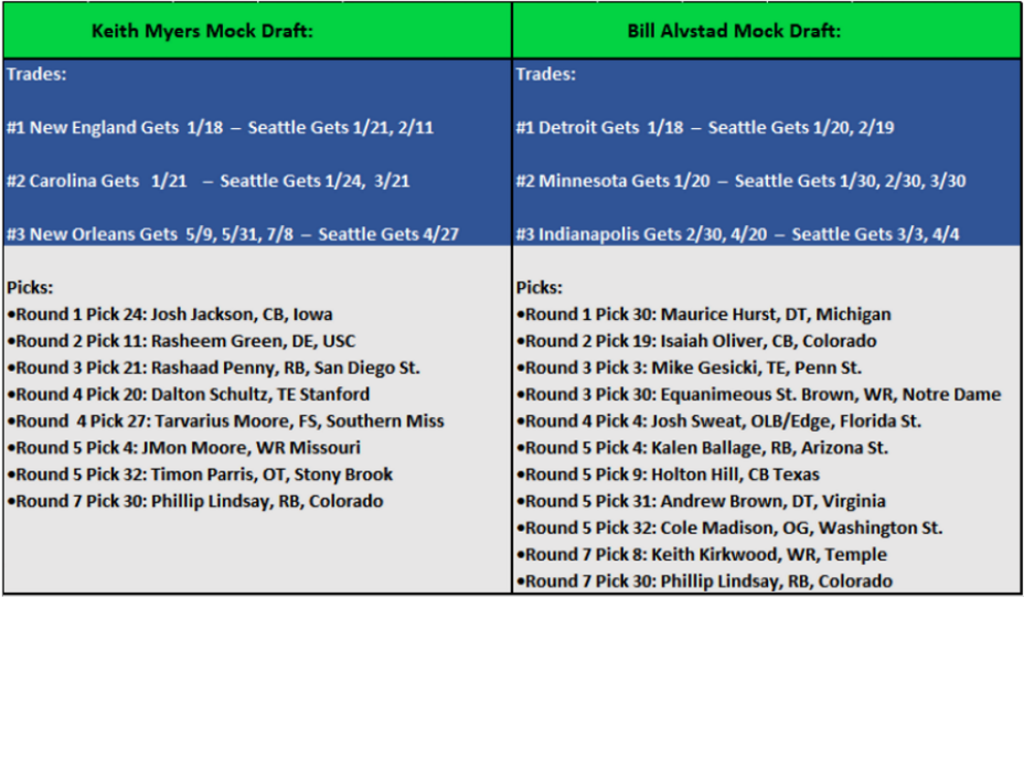 Close: It goes without saying that we had a blast putting this show together and recording it together in person. The draft is now just a couple of days away so it will be interesting if we hit on any of the players in our mock. Next week, come back and have a listen to our post draft, Pick Analysis show where we will go into every one of Seattle's picks and how they will fit into the existing roster.  Thanks again for listening and Go Hawks!!