Open: Welcome to the show with host Bill Alvstad and featuring as always, Keith Myers.  Remember to check out the new website at seahawksplaybook.com and have a look around.  All 15 Podcast Shows are located on the site, and a few other articles to keep you busy in the off-season.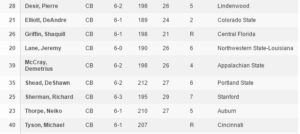 This Week in the News:
Eddie Lacy keeps collecting bonus money, and it keeps him right where Pete Carroll wants him, so he can hit defenders like a Mack truck!

Required Mini Camp started Tuesday. Everyone showed up including Michael Bennett. Deshawn Shead was the only known notable player not participating, and he will likely start the season on the PUP list.
Featured Segment: Cornerback Camp Battles
In today's episode, Bill and Keith discuss the players who will battle for starter minutes as well as key contributors in the defensive backfield.  Keith really likes Pierre Desir, and believes he has a legit shot and significant playing time this season.  Shaq Griffin, our highest drafted corner in the Pete Carroll and John Schneider era, looks to start the season as the number 2 corner opposite Richard Sherman.  Early in OTA's, Carroll has Griffin lining up with the first unit, as DeShawn Shead recovers from last season's knee injury.  It's likely Shead will not be ready for the start of the season.
Bill and Keith look at the other players on the list and identify the guys we think will emerge as the 5 or 6 defensive backs that the Seattle Seahawks will enter the 2017 season with.
Show Close.  Find on Twitter @MyersNFL, and Bill on Twitter @NWSeahawk.  Remember to go over to our Instagram and Facebook pages and like them to get updates on current articles and podcasts!
See you next week when we talk Safeties!