Hello Seahawks fans, welcome to the Hawks Playbook Podcast
We are excited to announce that the seahawksplaybook.com website is now live.  The website will feature the Hawks Playbook Podcast. It will also offer original written content including editorial, opinion and featured articles all through the year. Come on to the site, check it out, listen to a show, read an article and leave a comment to start a discussion, offer a suggestion or ask a question.
We also now have a Hawks Playbook Facebook and Instagram pages, so please go to the website and follow the links to those pages and give us a follow there as well.  Of course, you can find both Keith and me on Twitter as well.  Find Bill @NWSeahawk and Keith @MyersNFL, and the show's Twitter page @HawksPlaybook.
This week in the news:
Seahawks sign Quarterback Austin Davis to compete with Trevone Boykin for the backup spot heading into training camp. Quarterback Austin Davis played last year for the Denver Broncos but did not get into a game. He's appeared in 13 games in the NFL, starting 10, with the Cleveland Browns and then St. Louis Rams. One of those was a start for the Rams against the Seahawks in which the Rams won the game in St. Louis in 2014.

This week's OTA's and which players are getting noticed. Without the ability to see what's taking place first hand, Keith and Bill have to rely on other firsthand reports. From those, a few players seem to be consistently mentioned by other players and coaches as having stood out in camp. Thomas Rawls is bouncing all over the practice facility, anxious to prove he can stay healthy, and that he is not going to lay over and give his starting carries to Eddie Lacy.  Other players making us notice are George Fant at LT, Amara Darboh, Cyril Grayson and David Moore at WR. Shaq Griffin is taking starter reps and the #2 CB spot opposite Richard Sherman.
Featured Segment:  Linebacker Camp Battles: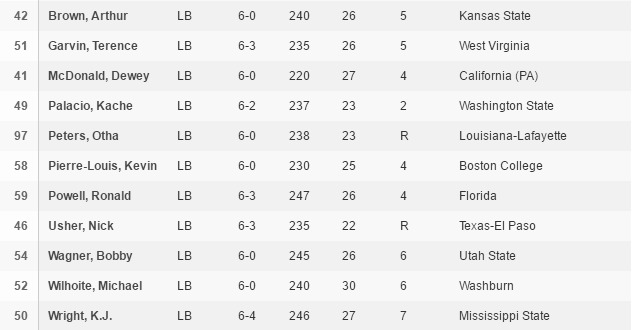 Mailbag Question of the Week:
Who will emerge as the starting FB in 2017?  Keith and Bill both give the best non-answers possible.