Admit it. Go ahead. No one will blame you. You thought this year's free agency period for the Seattle Seahawks was set up to be a complete disaster.  The consistent talk online believed that Russell Wilson was going to get traded. We are losing too many players. We cut our best pass rusher before it even started! We have little to no money available under the salary cap. This off-season was set up to be the worst off-season disaster of the John Schneider and Pete Carroll era. That sums it up.
So what happened? Was it a disaster? Hardly. In fact, while it's not completely over, this free agency period for Seattle, has by any measure, been wildly successful. How is this even possible?  Because of promises kept, a good deal of patience and a willingness to bend their own internal guide posts in the way they structure contracts.
A unique year, with all of the Covid-19 issues, posed a number of challenges to all 32 NFL ball clubs. Faced with an uncertain final league cap number, teams were forced to plan multiple financial mitigation strategies leading up to the new league year, right before free agency was set to begin. The league had negotiated a team salary cap floor of $175,000,000M before the season began, and finally settled in on a mandatory team salary cap of $182,000,000. Last years cap (2020) was set at $198,000,000. Under normal circumstances, would likely have gone up 10-15M in 2021. Because of Covid-19 and the resulting revenue shortage, that goal was never going to be met.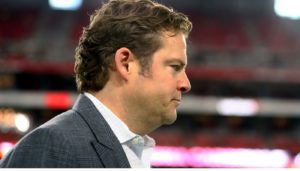 John Schneider and his salary cap cruncher's had a serious problem. They had approximately $4,000,000,000 million dollars of available cap space before free agency was set to start. Their expected cap space available, was to have been approximately $210,000,000 million. Now they had to fill out the entire roster, less $23,000,000,000 million in cap space, to work with in a normal year.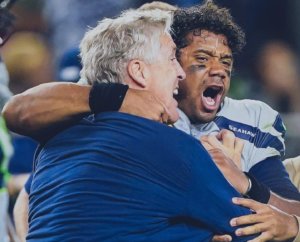 All of this comes on the heals of a very turbulent month between the teams future Hall of Fame quarterback Russell Wilson and head coach Pete Carroll. We don't need to rehash the saga here. Needless to say, things were unsettled at best. We don't yet know, in fact we may never know, but there seemed to be a promise made between the nearly 70 year old coach, and his all-pro QB. Pete told his impatient signal caller, "Trust the process". Russell Wilson didn't believe him. He didn't believe John and Pete were serious about bringing in more talent, especially along the offensive line, and of course, more weapons for Wilson to exploit all over the field. We know what Wilson did. What did John and Pete do?
John and Pete did what John and Pete always do. They quietly went about their off-season business, while it seemed the whole world was focused on the Wilson drama. Improvements needed to be made. To not do so, no matter how dire the circumstances, was not an option. Players Seattle normally like to keep, would be allowed to leave in free agency. Larger unguaranteed contracts would need to be adjusted. The team would make additional promises to players, and those players would make promises in return. Patience would be fundamental. An exceedingly strong amount of self discipline and patience by the team, would need to be shown early in free agency. The market would do it's usual thing: Explode with large deals in the first week. Quality players would come off of their lists, one by one. In Seattle, that was always the case. Pete told his star quarterback to believe in him….trust the process.
We will come back to the Russell Wilson story. A no good, very bad decision had to come first. The team made the decision to allow it's best pass rusher in 2021 go, even before free agency officially started, . DE Carlos Dunlap's cap space number was just too large. Sitting at $14M of unguaranteed money, the team needed those funds. In addition, the value vs production ratio was too far out of whack. Dunlap is a great player. But at 32 years old, his salary cap number needed to be in the $7-8M APY range if the team was going to retain him. The team cut Dunlap, as it was unable to renegotiate a restructure or extension. Before he walked 0ut the door, the team made a promise to him. Go out and try to find your money, but if the market doesn't materialize, we want you back, and we're planning on it. That was the way free agency started. Letting go of your best pass rusher just created one more hole that John Schneider would need to fill.
Trust the process. Free agency started the way free agency always starts in Seattle. Hurry up and wait. Fans constantly hearing about the perfect prospect in Seattle's scheme, only to see them sign elsewhere. Russell Wilson said we needed better protection up front. Pete Carroll himself, in his end of season press conference in January, declared that the Guard and Center positions would be a point of emphasis to upgrade this year. The team started the off-season with only 4 draft picks. We might need to spend some serious money in free agency! But available players started signing with other teams. The best offensive lineman made nary a whisper of coming to Seattle to block for one of the leagues best QB's. Less than a week into free agency, we signed a couple of our own guys back, but Griffin left for more money in Jacksonville, Hollister, Hyde, Moore, Dorsett had left as well.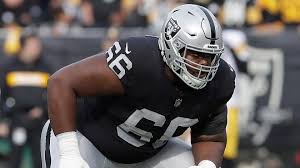 While the best lineman were signed by other teams, only second and third tier players were left to be had. That could not have been the plan….right? No, it was not, but Seattle had to be quick. Seattle learned that Oakland two-time pro bowl offensive guard Gabe Jackson was being made available. Another Oakland lineman, Center Rodney Hudson had just been traded to Arizona. If Jackson too, was not able to be traded, Oakland would likely cut him. Seattle did not want to chance having to compete with other teams to land Jackson. So the Seahawks flipped a 2021 5th round pick to Oakland, and acquired OG Gabe Jackson and the two years remaining on his current contract. Finally! A player. A player for Wilson, and a good solid upgrade for the offensive line. Half a promise kept. You see, there's still an upgrade at center to be had. Possibly in the Draft.
After this move, things begin to fall into place. Almost. Jarran Reed refused to restructure his inflated contract and was released by the team after no trade partners were found. It's a shame. Reed's a fine, reliable player and leader on the defensive line, but his contract needed to be reworked. By releasing Reed, the team saved an additional $8.5M in team salary cap. As mentioned before, yet almost an afterthought, we lost Shaquill Griffin to Jacksonville in free agency. His price too high for the Seahawks to even consider. A 3-year $40M deal, with $29M in guaranteed money. Good for the player, bad for the Seahawks.
Okay, now it gets better and things actually do fall into place. Player signings begin in earnest. Chris Carson comes back. As predicted on our show two months prior, the running back market was fairly non-existent. Carson had no teams lined up to pay him, so he came back on a very team friendly deal to remain a Seahawk. Mayowa returns as does Pocic, Ogbuehi, Simmons and Nick Bellore. Outside free agents too. Ahkello Witherspoon comes in to compete for the spot left by Griffin. TE Gerald Everett leaves the Rams and follows his old position coach, our new OC, Shane Waldron to Seattle. A clear upgrade over Hollister who departed. In a somewhat surprising move, the team signed DE Kerry Hyder to a two year contract. He upgrades the base side defensive end position occupied by Rasheem Green and LJ Collier. All three players can play at the 5T and slide inside on passing downs to the 3-T. The team brought back DT Al Woods as well to add to the rotation in place of Reed. While Woods won't play Reeds spot as a pass rusher, it is nice to have a solid big body space eater in there with some experience beyond Poona Ford, who also signed a two year extension before free agency.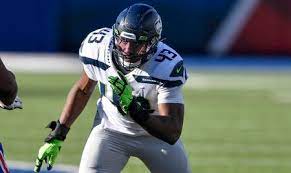 How about the other story we saved for last? Almost last. Carlos Dunlap. He did go out while we were away, and have a look at what other teams might offer to the 32 year old pass rusher. But with no other takers to be had, he came back to Pete and John, who had made a promise to him before free agency began. 'We love you' they said, 'we want you back, but before that can happen, we need to borrow your money ($14M) and use it to help with the roster. We want you to get paid, so go try, but if you don't, and you can come back on a lower number, you have a home here in Seattle'. So a few weeks after free agency began, Dunlap pulls back up in his old parking space, walks in the door and signs a new deal. 2-years $16.6M / $8.5M Guaranteed. Dunlap agreed to a two-year contract worth up to $13.6 million but structured in a way using three voidable years that his salary cap hit for the 2021 season is just $2.9 million. The team followed through. They gave him $8.5M in guaranteed money, which is what he wanted. A true win-win for the player and the team.
Truly last but not least. The team did save the best for last. A contract extension for WR Tyler Lockett. The Seahawks pick up $5.7M of 2021 salary cap room with Tyler Lockett's 4-year, $69M contract extension. His 2021 cap number drops to $9.25M from $14.95M.
Here is a break down of the players lost, resigned and signed during the free agency period. It's not completely over yet.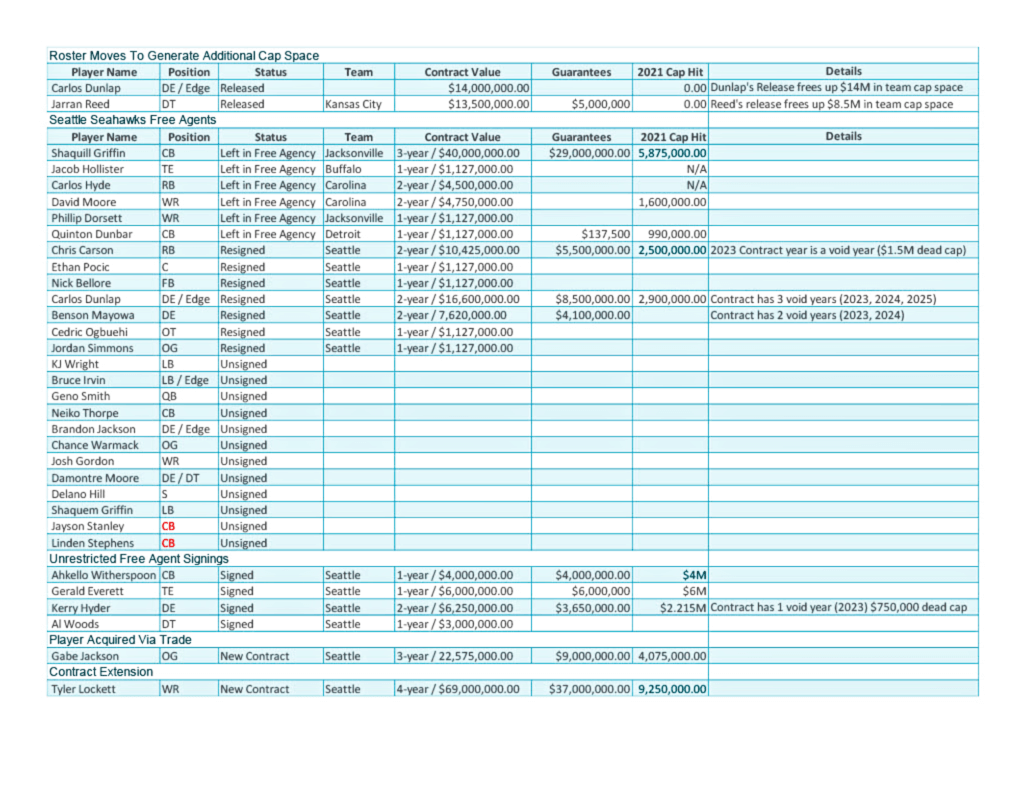 Seattle Seahawks Cap Totals (April 13th, 2021)
Adjusted Salary Cap

$183,931,235

Active Contracts:

$177,136,904

Dead Cap:

$6,308,598

2020 Rollover:

$956,477

Total (All):

$183,445,502

Total (Top 51):

$175,945,502

Est. Cap Space (All):

$485,733

Est. Cap Space (Top 51):

$7,985,733
So the team started this remarkable run of wheeling and dealing with only $4M in available salary cap, and 4 draft picks in the NFL Draft later this month. It had 19 players to resign or replace. I'm sorry what?! $4M dollars and 4 draft picks to replace more than a third of your roster?! You don't successfully accomplish that unless you have a very solid plan. Trust the process. keep your promises. Have a good deal of patience and a willingness to bend their own internal guide posts in the way they structure contracts. After all the deals, Seattle has team salary cap space total of $7.985M. The team can still maneuver to bring KJ Wright back if it wants to. Other candidates to return include DE/SAM Bruce Irvin and backup Quarterback, Geno Smith. The team only has 64 players under contract, but will add a few more during the draft and a slew of undrafted free agents will follow after the draft to get the team up to a 90-man roster before mini-camps in June.
Trust the Process.