With the draft fast approaching in less than two weeks, I thought it was time to put out a 2021 NFL Mock Draft. I used the NFL Mock Draft Database Mock Draft Simulator. We had Denny, the website developer and owner of the site on a few weeks ago. It was a great interview, so if you haven't seen it I would highly recommend you do so. Here is the link: Seahawks Playbook Podcast Interview with NFL Mock Draft Database on YouTube
So let's get started. First, let me share a few parameters with you. The Seahawks start the draft with three picks. Obviously we will not leave the draft with just three. So I intend to find a draft partner that I can drop back with and pick up a few picks. Cleveland sits at 2/59 and have a lot of picks to trade with. TRADE: I agree to move my 2/56 and a future 2022 4th round pick and player DE Rasheem Green, in exchange for moving back to Cleveland's 2/59. In exchange, Cleveland sends pick 3/89, 5/169, 6/211 & 7/257. By working with Cleveland and giving up a future 4th and a player likely to either be cut or drop out of the rotation, I was able to rebuild my depleted draft stock and really get back into this draft.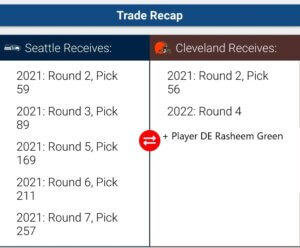 Okay, now the fun part! Let's go trough the picks: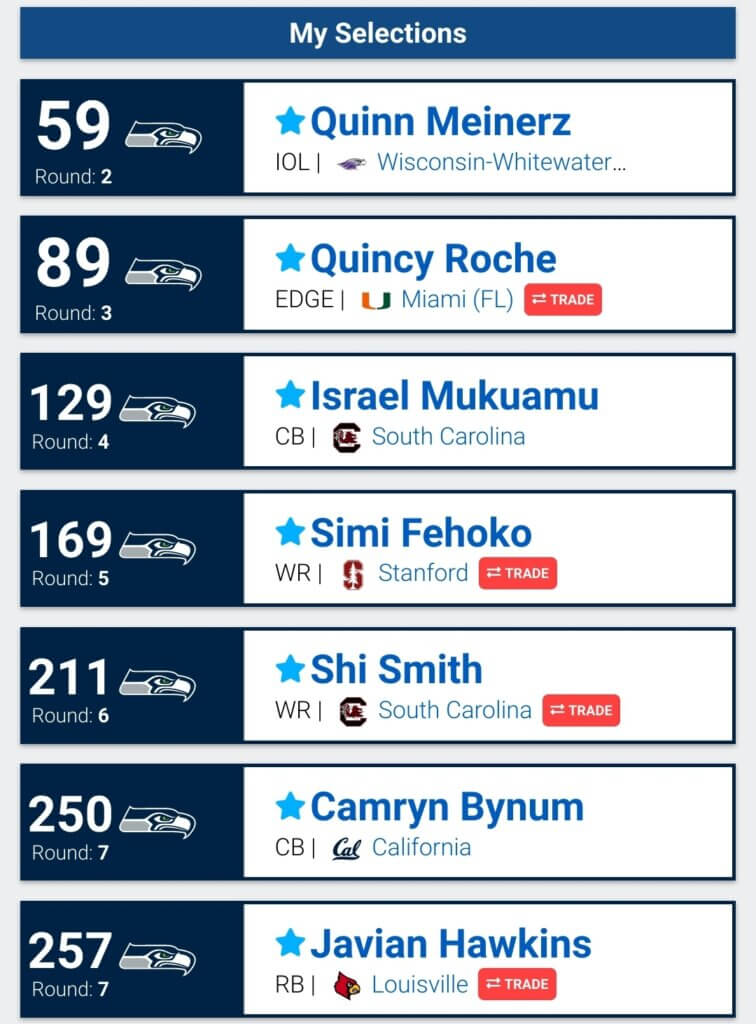 Pick 2/59: With the Seahawks first selection in this draft, Seattle selects: OC/OG Quinn Meinerz / Wisconsin-Whitewater.
Quinn Meinerz ~ "I really enjoy playing in a power scheme. Let's get double teams, move defensive linemen and go up to the linebackers. I think it's good that you have a really good power football team and a team that can also get to the edge and that's where I can use my athleticism and my speed to get to the edge. So while I'm efficient at the point of attack at the center position, I can also be good when needed to pull."
A lot of evaluators will say that Meinerz is not an ideal fit in an outside zone scheme. Maybe. If that's all Seattle was going to run, that might be a little true, but still sells Meinerz short. Seattle intends to run a hybrid scheme, blending outside zone, inside zone and power blocking concepts. There are two reasons for this: 1. Existing personnel. Guard's Gabe Jackson and Damian Lewis are both under contract for 3 more years and both excel as power blocking technique guys. Both Shell and Brown at tackle are athletic, but Brown will be 35 years old this season and his super athletic days are behind him. Seattle will also ask Quinn Meinerz to play inside at Center. 2. Pete Carroll likes the power running game and bringing back RB Chris Carson for two more years proves that. Quinn Meinerz is the perfect blend of animal and athleticism, that he will have Pete Carroll drooling at this addition.  Offensive line is set: LT Brown, LG Jackson, C Meinerz, RG Lewis, RT Shell. Pocic still provides the team value as a backup that can play three different positions.
Pick 3/89: Seattle selects Edge/SAM LB Quincy Roche – Miami. 6'3″, 243lbs. 4.62 Forty Time. 81″ Wingspan.
A lot of folks might be scratching their heads with this pick, but don't worry, Roche's name will be rolling off your tongues soon enough as one of your favorite new additions. With KJ Wright still sitting out there in free agency, Seattle looks to the future right now and gets its new starting SAM Linebacker in round 3. Roche is super athletic, long and brings a highly diverse and skilled set of tools to Seattle's defense. During passing downs Roche can come up to the line of scrimmage and rush off the edge. And he should, leaving his college career with 30.5 sacks and 54 tackles for loss.
Pick 4/129: Seattle selects CB Israel Mukuamu – South Carolina. Listed at 6'4″, 205 pounds, with impressive athletic ability, Israel Mukuamu is the second half of South Carolina's elite cornerback duo. Mukuamu is not quite as diverse as his teammate Jaycee Horn, but I believe that in the right scheme, he will be the superior NFL player. Mukuamu projects as a prototypical Cover-3 cornerback with his elite length, ball skills, and strong vertical athletic ability. Mukuamu comes in right away to compete for a starting role, and at worst, fills a much needed scheme diverse rotational role where he can line up in the slot against bigger WR or TE's and on the outsize. He could quickly take over a starting role by the end of year one.
Pick 5/169: Seattle selects WR Semi Fehoko – Stanford. Fehoko is an athletic freak of a wide receiver. Listed at 6'4″, 222lbs. Fehoko had an incredibly strong pro day, posting a 4.42-second 40-yard dash (77th percentile), weighing in at 222 pounds (91st) and completing the three-cone drill in 6.86 seconds (66th). He's big, and he's an athlete. Fehoko has the upside and potential to be a draft day steel for the Seahawks. He can come in right away and be WR4, with the potential to work his way into a stronger role as a big bodied possession style WR who can create space and separate after the catch. He also has the speed to take the top off the defense as well as the height and athleticism to be a great red zone target.
Pick 6/169: Seattle selects WR Shi Smith – South Carolina. Seattle double dips for the first time in this draft and selects another wide receiver here in the 6th round. While Fehoko is the perfect size/weight/speed profile, Smith only checks the speed box, but he's so much more than that. He can also be a return man as well. Smith in listed at 5'10", 186lbs. Tony Pauline's Shi Smith Scouting Report: Positives: Smallish, speedy receiver who can double as a return specialist. Quick, fires into pass routes, and consistently separates from defenders. Displays good awareness, tracks the pass in the air and gets vertical. Uses his hands to come free from opponents, adjusts to the errant throw, and consistently extends to snatch the ball away from his frame. Possesses strong, quick hands and solid eye/hand coordination. Works hard after the catch and effectively follows blocks. Terrific vertical receiver. Effective running reverses and follows blocks everywhere on the field. Negatives: Has height and size limitations. Tries to play big football but loses out to large defensive backs. Analysis: Smith was a shining light in what was a dreary 2020 season for South Carolina. He's a sure-handed receiver with outstanding quickness and toughness as well as a head for the game. Smith possesses the ability to line up as a third receiver who can be used in the slot, returning punts, or running reverses.
Pick 7/250: Seattle selects CB Camryn Bynum – California. Listed at 6'0″, 200lbs. Ran a 4.49 at Pro Day. At this point in the draft, Bynum is a great value for the back end of your roster and special teams. He needs to work on technique and consistency, which allowed him to fall this far in the first place, but there is enough ball skills, athleticism and speed to work with.
Pick 7/257: Seattle selects RB Javian Hawkins – Louisville. Hawkins is listed at 5'10" 195lbs. That might be generous. With that said, in nearly the last pick in the draft, Seattle takes on the upside of a player that could be a fun new gadget toy in Shane Waldron's new offensive scheme. Hawkins is not the type of running back you expect to see running between the tackles and pounding it up into the line of scrimmage. He is your prototypical change of pace back in the NFL. He's got the speed and shiftiness to get to the outside for you on outsize zone plays and Jet Sweeps, as well as catch the ball out of the back field for you or line up in isolation to get him into open space. Also offers some return potential as well.