Podcast: Play in new window | Download
Subscribe: RSS
Hawks Playbook Podcast Episode 27 – Regular Season Schedule Predictions
Open:  Hello Seahawks fans, thanks for joining Keith and I for our 2017 Schedule prediction show!  We had a great time recording this episode, and came to an agreement on more than a few games. But the biggest agreement we had was that we are going to have a very special season indeed.  So sit back, relax and hold on to your favorite beverage as Bill and Keith walk you through each game and predict who wins and who loses.
Featured Segment:  Regular Season Schedule with Predictions.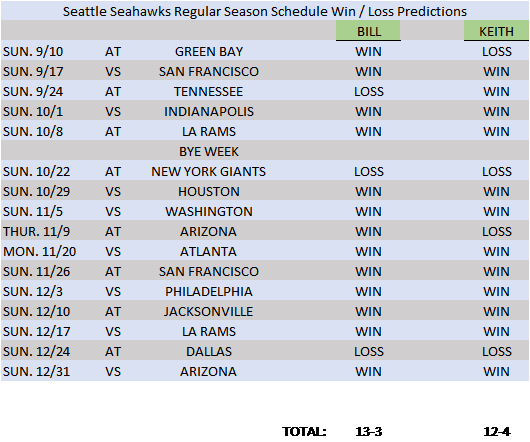 Featured Segment: Preview of Seattle Seahawks AT Green Bay Packers
Right tackle Bryan Bulaga is questionable now with an ankle injury. Someone like Kyle Murphy or Jason Spriggs (Both 2016 draft picks) would have to fill in, leaving the Packers vulnerable to the Seahawks edge rush. Look for this to be a possible factor in the game.

Last time these two teams squared off, Russell Wilson was sacked three times and had five interceptions. Arguably his worst game as a professional. Look for Wilson to rebound in a big way.

Defensive coordinator Dom Capers likes his new corner back toys in Kevin King and Josh Jones, 2017 draft picks. Seattle Seahawk fans who really wanted us to draft king and were very disappointed that he went one spot before we picked Malik McDowell, will get there first look at him. Also look for Capers to try and run stunts and blitzes towards the middle, while sending his corners around the edge to take advantage of Seattle's perceived weakness at the tackle position.
Close: Thanks so much for joining us for this special addition of the Hawks Playbook Podcast.  Let us know what you think of our predictions and share your own!  You can find the Hawks Playbook podcast all over the internet.  We host every show on both our website and over at Blog Talk Radio. You can also subscribe to the podcast on ITunes and any one of a number of Droid Podcast Apps on your devices.  Follow Keith on Twitter @MyersNFL and Bill is @NWSeahawk.  See you next we for our first regular season recap and preview show.