My history with the Seattle Seahawks began, well it began at the beginning.  As a young kid, an 11-year-old, in 1976 I found out from my Mom and Dad that they had purchased season tickets for the first season of professional football in Seattle.
And that thing, that concrete dome thing they had been building in downtown, I was going to get to go inside of that!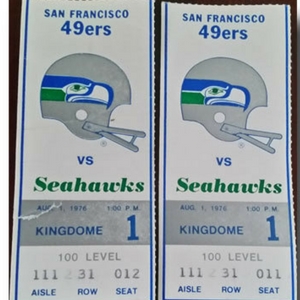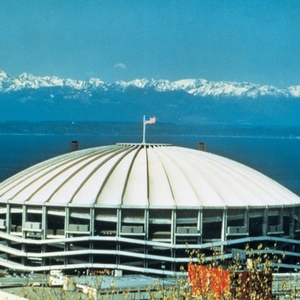 The Kingdome. Oh man, I think I was honestly more excited about that! Our family even got a tour of the Kingdome before it opened, just so we could be one of the first set of fans to see it.
I remember thinking that I get to come here for a bunch of games for a whole season and it was going to be awesome. Just to look at it!
I really had no idea what going to a professional football game was going to be like.  I had never been.  Most of us hadn't.  It didn't take long to find out that it was going to be way more exciting than I ever could imagine.  I was at the very first Seattle Seahawks game in franchise history. August 1st, 1976. It was the first preseason game versus the San Francisco 49ers and their Quarterback, Jim Plunkett.  Before the game, my dad liked to get there early to get good "free" parking under the Alaska Way Viaduct, and we would walk over to the Kingdome, and watch and listen to other fans doing the same. Ticket prices in our seats were about $15-20.00 per seat. 7th row on the 20 yards line.
That first game is a long distant memory, and I do not recall anything specific, except this. I remember just one thing.  I really liked being a fan, with thousands of other fans, yelling and screaming for our team.  And one guy I remember, turned out to be Bill the Beer Man.
At first, he was just like any other scruffy vendor at the time…..but this guy, he was loud.  He could yell. He worked the 3-4 sections near us.  Turned out, he really liked to yell. To fire up the crowd.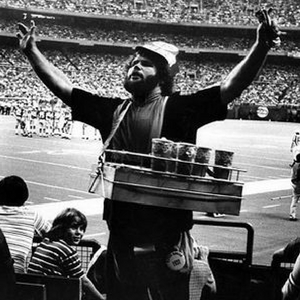 We all kind of knew when to cheer, but he made sure it was with a little extra zeal!  He gave out instructions to multiple sections at a time. Standing down low, closest to the field, he would turn up to the crowd and get everyone's attention, and say…"When I point to you guys, you yell "SEA", and now I'm going to go over to the other side and tell them when I point to them, they are going to yell "HAWKS".  And then he would come back over, and slowly build up this cheer that the whole dome joined in on.  Each ½ of the dome yelling "SEA", and the other ½ "HAWKS".  Man that was fun!
Before we all knew it, that first season was over, and we had two wins and only one of those came in the Kingdome. On November 7th they won their first game at home, 30-13 over the Atlanta Falcons. We had a couple of fun young guys to watch that you may have heard of. Jim Zorn and Steve Largent.  Those guys instantly became my favorite players.  But that first season was probably more about learning to become a football fan than anything else.  We learned that the temporary Bleachers that they used in our section, 107, Row 7 used to make a huge racket if we stomped hard on them.  We learned that the booming echo's in the Kingdome could be generated and used against other teams so they had a hard time hearing. We learned how to do the wave…and not just one, but we would have 4 or 5 waves going all at the same time in this crazy fan frenzy!
Those first several years, it really wasn't about winning yet.  It was about learning to win, about learning how to cheer for your team and become a lifelong fan.  Heck, we didn't win our first playoff game until 1983 when we actually won two playoff games before the AFC Championship Game in which we lost to the Raiders. We won one more playoff game in 1984 (Denver Bronco's) and then we didn't win another playoff game until a win over the Washington Redskins in 2005!
We are in the Golden Years of Seahawks football. We have built a culture of winning and have become one of the elite franchises in all of sports.  In other words, a very long way from the days of Bill the Beer man and $20 dollar seats.  But these golden years were built on those early seasons where regular fans were turned into lifelong team fans, and who gave birth to a whole new generation of lifers who have only seen pictures of the Kingdome and really bad grainy video of the Zorn to Largent connection.
I have been lucky enough to have seen in person or watched on TV, every single game in franchise history.  I have suffered through some very bad teams, to very bad coaches and a very bad owner….He who shall not be named. But I have been rewarded with a great owner in Paul Allen, a great front office and head coach Pete Carroll, and one of the greatest pro football franchises in the history of the NFL.  The Golden Years.